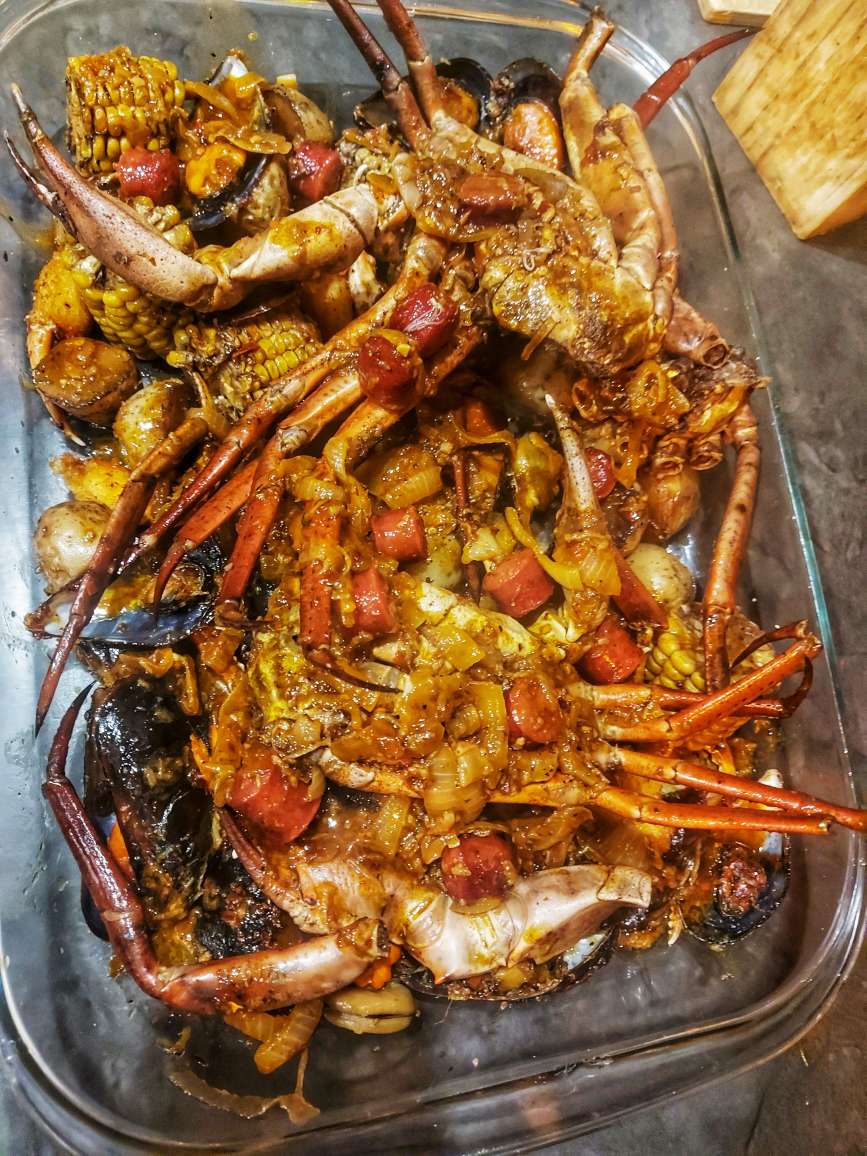 This is an easy home made version of seafood boil. a few people will say I cant cook sea food, but I tell you now try this recipe and everyone around will think you are chef.
SERVES

4 servings

PREP TIME

15 minute

Cook TIME

60 minutes
Ingredients
Ingredients
4 small crab legs
500g half shell mussels
100g Crab claw
500g prawns
4 large potatoes
2 corns Salami
soused
1 Large onion
9 garlic cloves
2 fresh Lemons
500g of butter
Spices
Crab boil spice
Chicken stock cube
Black Pepper
Salt
Prapika
Garlic powder
Parsley
Lemon pepper
Tobacco sauce
Directions
Method
In a large pot, add 2 liters of water and bring it to boil.
Add the crab boil spice, chicken stew cube, paprika, 1 tsp garlic powder, 1 tsp of salt, slice of lemon, 3 garlic cloves, slice cube of onion, 100g of butter and stir to mix.
Add the potatoes, sweetcorn to the boil let cook for 15-20 min.
In a separate pan, add 100g of butter, 2 crushed garlic clove, black pepper and pintch of salt and let to melt.
Add the Crab claw and cook for 5-7 min and remove.
Add the prawn and cook for 5-7 min and remove.
Add the mussel and cook for 10min and remove (note that you can another 100g of butter during this process).
Remove the potato and sweetcorn from the boil and add the crab legs Let cook for 15min.
(While waiting for the crab legs, you can begin making your sauce).
Using the same pan, add 200g of butter, 4 crushed garlic and black pepper let it melt.
Add slice of onion, paprika, lemon pepper, 1 tsp garlic parsley, 1 tsp of tobacco sauce and salami soused. Bring to a boil for 2min.
Pour the souse to the seafood and serve