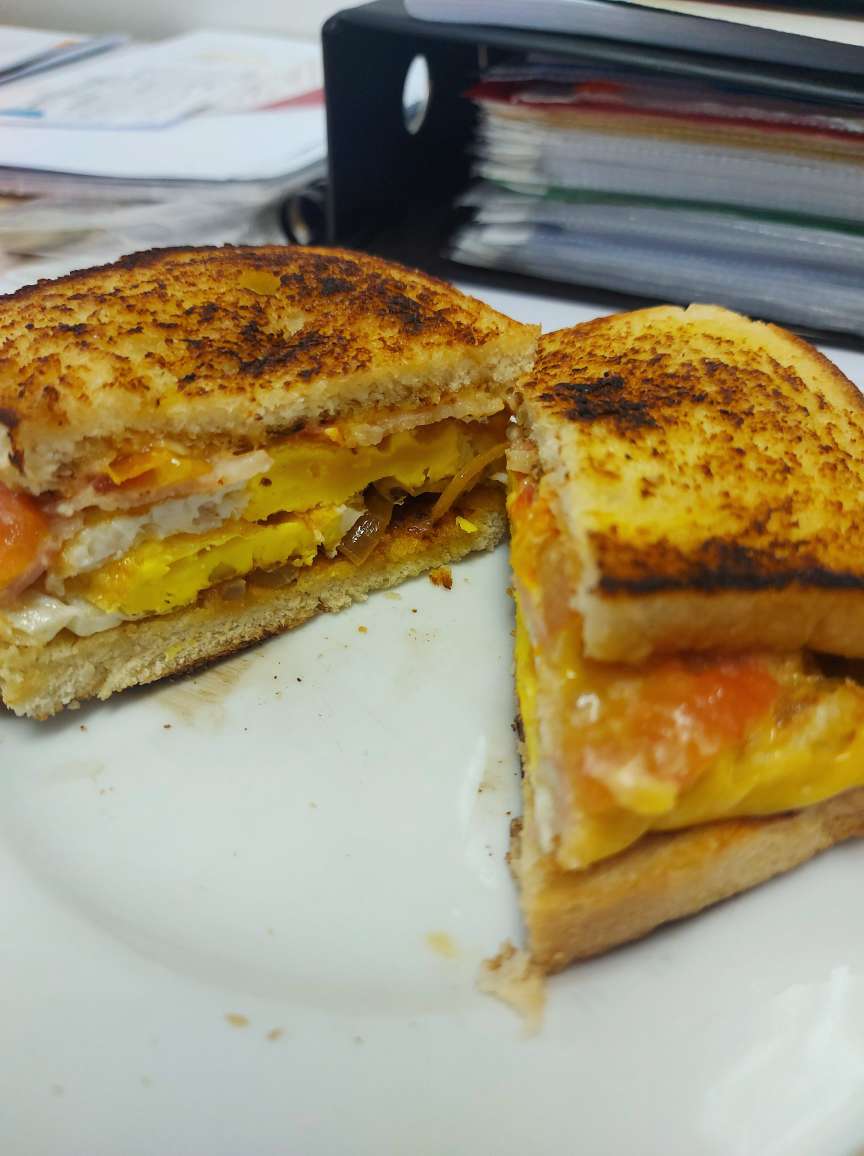 Homemade Stuffed Sandwich Toast is the easiest most underrated breakfast food. This will make you stomach full for half a day.
SERVES

4 servings

PREP TIME

10 minute

Cook TIME

30 minutes
Ingredients
For Patties
300g ground beef
4 clove of garlic
Medium onion diced
1 tsp salt pepper
1 tsp of Garlic powder
1 tsp of Paprika
1 stp of Steak and chop spices
1 stp of mixed spices
2 large tsp of breadcrumbs
2 large tsp of cooking oil
1 eggs
For The Sandwiches
1/2 cup cheddar cheese, grated
Butter, room temperature
Fresh basil leaves
Fresh tomatoes
8 bread slices
4 eggs
Directions
In a medium bowl add 2 large tsp of cooking oil, the dice onion, crushed garlic and all the spices, salt & pepper, Garlic powder, Paprika, steak and chop spices, mixed spices and combine well
Add the ground beef to the mix and combine well, there after add the egg and breadcrumbs and mix well.
For shaping the buns in round use the palm of your hand.
Tip: you can prepare the patties overnight and let them sleep in a freezer.
Prepare the Cast Iron Grill Pan, add cooking oil and spread it, add your patties and let them cook for 2-3 minute a side.
Prepare your non sticker pan to a medium heat, add a dice of butter and crack each individual egg in, 2 at a time in a pan depending on the size of your pan add salt and pepper on top after a minute add a pitch of water to the pan, cover with a lid this way the egg white cook from the steam for 2-3 min.
Preparing the sandwiches. Heat a nonstick pan over medium high heat. Spread butter on the sides of the bread. With butter side down, top with cheddar cheese, the eggs, patties, slices tomato, basil and leaves. Top with the other slice of bread, butter side up.
Place the sandwich on the pan and cook until the bottom is golden brown, for about 3 minutes. Flip, press with a spatula and cook the other side until crispy, golden brown and cheese is melted.
Serve immediately.