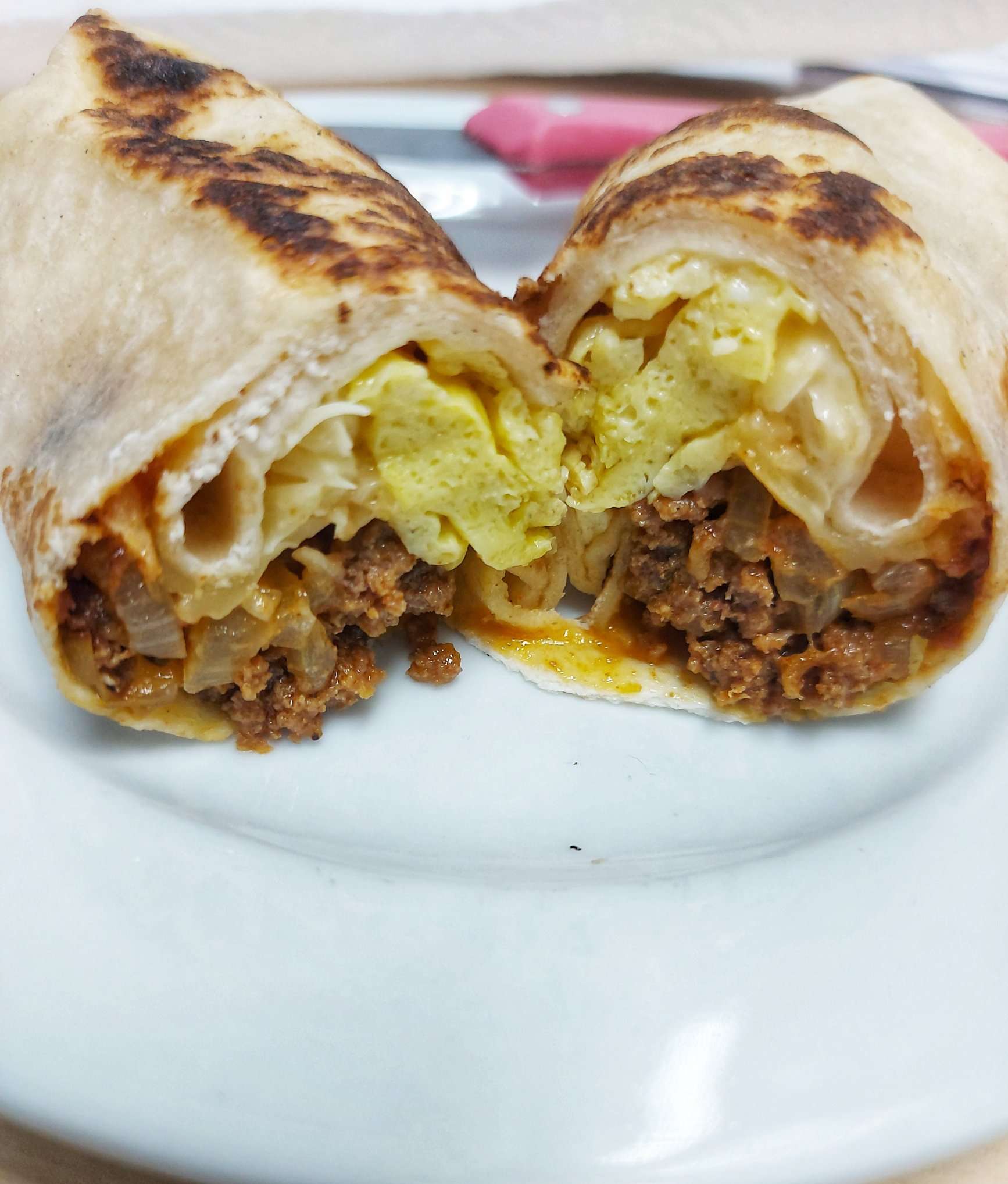 These breakfast sandwiches are packed with ground beef (mince), stir fry, eggs, cheese and blue cheese sauce. What a great way to start your day. The great thing is, these wraps can be made up in just 15 minutes.
SERVES

4 servings

PREP TIME

10 minute

Cook TIME

15 minutes
Ingredients
For The Eggs
3 Eggs
1 tsp of Black Pepper and salt
1 large tsp of Milk

For the Ground beef
128 g ground beef (Mince)
1 tsp of paprika
1 tsp of garlic powder
1 tsp of Barbeque seasoning
½ pinch of black pepper

For the Stir fly
1 red pepper Slice
1 yellow pepper slice
1 Medium red onion slice
1/2 cup cheddar white cheese, grated
Blue cheeses sauce
4 wraps
Directions
In a small bowl add 3 eggs, 1 tsp of Black Pepper and salt , 1 tsp of Milk and slow mix
Prepare your non sticker pan to medium heat, add a dice of butter and add the mixed eggs, cook them as scrambled eggs for 1-2 min and set aside.
For ground beef. Prepare your nonstick pan by adding 2 spoons of cooking oil on a medium heat and add your ground beef and to it add 1 tsp of paprika, 1 tsp of garlic powder, 1 tsp of barbeque seasoning and ½ pitch of black pepper. Keep stirring and mixing the ground beef until well cooked. It should have a brown crispy color to it and set aside.
For the stir fly: Using the same nonstick pan add 1 spoon of butter, add the red pepper and yellow pepper for 1-2 minute and set aside
Add the red onionto the pan and fly for 2- 3 Min
Building the wrap: In the Centre of the wrap start by adding the scrambled eggs in vertical line then add ground beef, then the stir fry (Peppers and red Onion), sprinkle the grated cheese on top and the blue cheese sauce.


Fold the wrap by bring the bottom and top over, rotate the wrap and roll it up.
You would want to heat up the wrap in a hot pan for 1 min each side


Serve immediately.